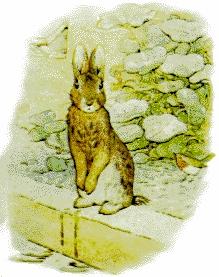 Rabbits
at Westwind Grove Farm
We breed rabbits for all purposes, in lots of colours. Meat and pet rabbits are always available, and Angora rabbits in several colours for wool are sometimes available. In our Farm and Craft store you will find hand-knitted goods made from Jacob Sheep and Angora wool, rabbit-related gifts, and pet supplies.
Check availability of rabbits for sale at Rabbit Records
If you have recently purchased a pet rabbit from us, you will have been given a care leaflet which refers you to this Website for more information.
Enter the Rabbit in the Moon Guide to Rabbit Care here!
We are conveniently located off Highway 10 just north of Dundalk. Our brand new Farm and Craft store opens May 13th, selling fresh farm eggs, pet supplies, and a wide variety of unique handcrafted items.
Back to Rabbit in the Moon - Rabbits, Goats, and Sheep for all purposes.
To Mooncat's Emporium - Farm and Craft store.