We live in a small, 14 acre hilltop farm in a beautiful part of rural SW Ontario, an area know as Grey-Bruce. We have a Zone 3 climate, being so high up (1700ft above sea level) and a ceaseless West wind. There is a small village (see illustration below) about 3 miles away that supplies our basic needs.
It's really NOT the easiest place to try to raise crops and livestock, but the soil is excellent, and the place has a certain quality, a magick if you like, that creates a love-at-first-sight with the area. It is swampy and hilly, and can be quite isolated in Winter when the Highways are closed by drifting snow, but we think we'll be staying here a long, long time.
Why am I being so mysterious about my whereabouts? When you live in as a tiny a place as this you don't advertise it on the Internet, but if you want to visit, just e-mail me and I'll send you a map!
See some of our Animals
A brief description of a Different Type of Farm
Scenes from the Farm, your virtual tour.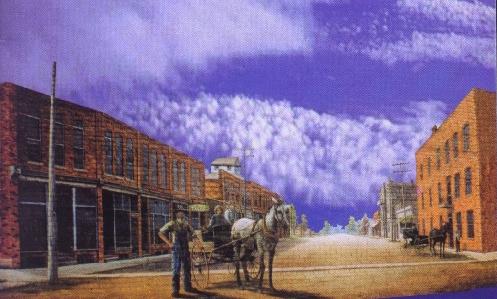 The local village, a few (er hem) years ago! (but nothing's changed, the tall building in the left background is the mill I buy my animal feed from!
Home